Using an Angled Screw for Retained Implant Restoration and Leveraging a HIPAA-Compliant Texting Solution to Enhance Referral, Planning, Coordination and Documentation
Feb 19, 2018
This case study demonstrates the planning and execution of a retrievable single restoration in the esthetic zone. Instead of using a cement-retained crown to a custom abutment, we used angled screw access. The case highlights the steps associated with the procedure and its positive outcome. It also identifies benefits of using a HIPAA-compliant texting application to efficiently and securely communicate with the referring dentist, lab and patient.
Fig 1 and 2.  A 35-year-old male presented with a chipped incisal edge on tooth #8 and a horizontal fracture of tooth number #9. The patient was referred by his general practitioner dentist for a surgical evaluation for extraction of #9 and possible immediate placement of a dental implant.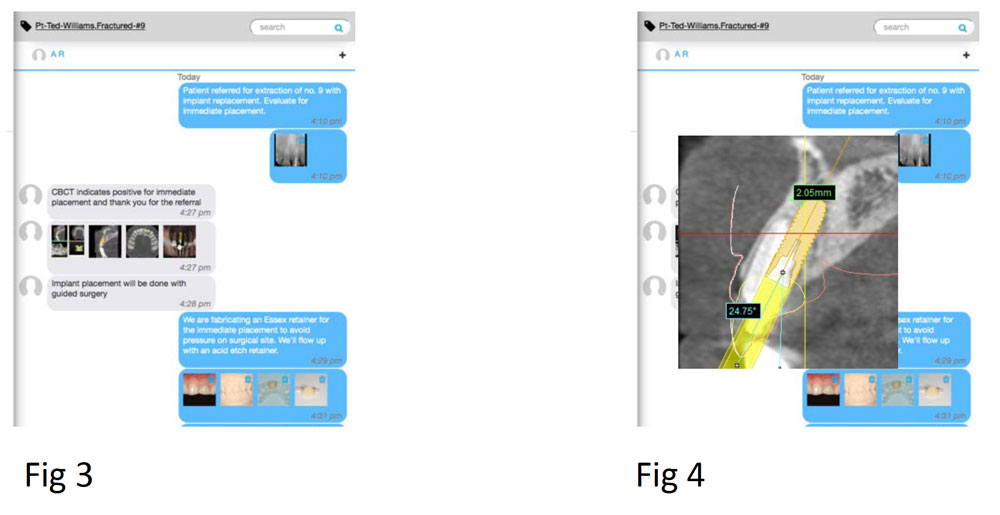 Figure 3. This dentist used the Awrel HIPAA-compliant texting application to make the referral, eliminating the need to place a phone call, send an email or log into a Web portal to refer the patient. He simply opened the Awrel app in his cell phone and texted information about the patient. Within minutes, the team replied via text, acknowledging the referral, initiating the planning process, confirming an implant placement, and thanking the dentist for the referral.
The texting app was also used for case planning, documentation and collaboration with the referring dentist and lab. This helped avoid delays associated with information exchange via traditional modes including phone calls, voice mails, emails and portal-based communication.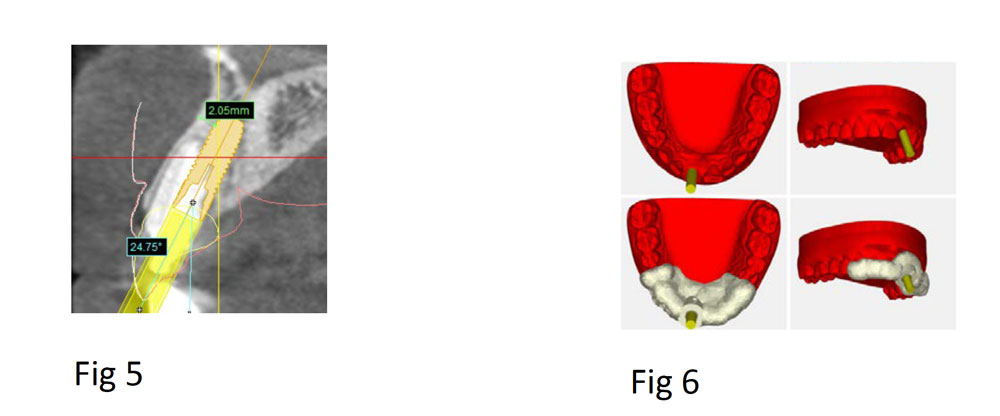 Fig 4, 5 and 6.  The CBCT, viewed on Simplant, provided a platform for planning the placement and fabrication of a surgical guide. The CBCT also provided information to plan for an angled-access, screw-retained, implant-supported restoration. Figure 5 illustrates the restoration plan.
Download the pdf to view full case study.
Key lessons learned:
A screw-retained restoration can be planned with CBCT
An angled screw access reduces the risk of fenestration and dehiscence by increasing the distance of the implant from the buccal wall of an osteotomy
HIPAA-compliant texting can elevate the efficiency, accuracy, security and outcome when used properly to share, collaborate and document patient information
Information exchanged via text using the Awrel application can be archived not deleted, thereby providing a secure history including digital files, documents and conversations spanning the treatment experience of the patient, clinicians, lab, and, when appropriate, a company representative